Thermal Simulation White Paper
Fill out the form below
Investing in Thermal Intelligence Speeds Time-to-Market
Virtual thermal modeling allows OEMs to develop numerous solutions early in the product development process, striving for ideal thermal performance based on a range of virtual models.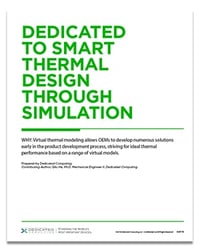 Powering everything from medical devices and flight simulators to nuclear power plants, embedded systems must perform reliably in computing environments with complex thermal design challenges.
This paper outlines an example for how thermal simulation can help OEMs avoid costly delays and speed time to market.
Fill out the form to the left to download the White Paper.