Transforming Medical Designs
Fill out the form below
Smart Strategies to Ease Transition to Windows 10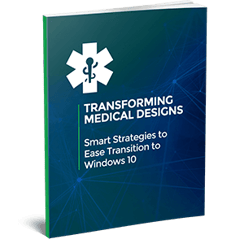 OS transformation is on the horizon – never an easy task in embedded markets and particularly daunting for healthcare arenas. Facing potential risks and challenges in the form of application rework and validation, medical OEMs need a game plan in the move from Windows 7 to Windows 10.
This paper provides insight on smart steps that can extend the lifecycle of your Windows 7-based medical designs, even while laying the groundwork for next generation OS performance such as more sophisticated security and more manageable embedded lifecycles.
Fill out the form to the left to download the eBook.