The Benefits of Networked Training & Simulation
Fill Out the Form Below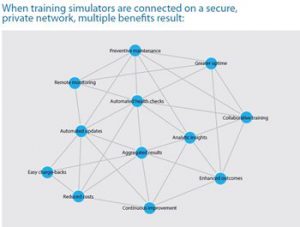 Transformation is underway in the way we live and work, driven by the ability to connect devices for improved communication and interoperability—with little or no human intervention. It's a concept known as the Internet of Things (IoT).
In the training and simulation industry, however, most simulators still operate in a standalone mode. There are concerns about security and compliance with Information Assurance (IA) standards. Best practices now exist that address these concerns, and once training devices are connected through secure, private networks, multiple benefits result
To stay competitive and bring the benefits of connectivity to users and customers, training and simulation OEMs should develop a roadmap that identifies the steps they should take to achieve their long-term goals in networking.
Start with the right technology. Choose processors that are building blocks for gateway solutions, such as the Intel® Quark™ SoC X1000, Intel® Quark™ SoC X1020D, and Intel® Atom™ processor E3826.
Work with the right partner. Choose an industry computing supplier that is experienced in simulator connectivity and compliance.
Get there in steps. A partner can show you the benefits of an incremental approach, tailored to the needs of your industry and business.
Fill out the form on the left to download the full white paper.