Accelerating Precision Medicine With High Performance Computing Clusters
Fill Out the Form Below
Scalable, Standards-Based Technology Fuels a Big Data Turning Point in Genome Sequencing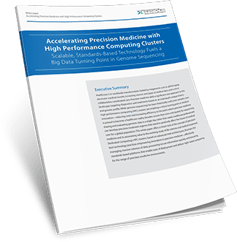 This white paper offers a closer look at the concept of precision medicine and its astonishing value to the evolving study of life sciences and medical treatment.
Dedicated Computing's HPC clusters, based on advanced Intel architectures, illustrate the best technology practices empowering innovators in precision medicine—effectively managing massive volumes of data, processing secure information quickly, and ensuring standards-based platforms that enable ease of deployment and deliver right-sized computing for the range of precision medicine environments.
Fill out the form on the left to receive the full white paper.